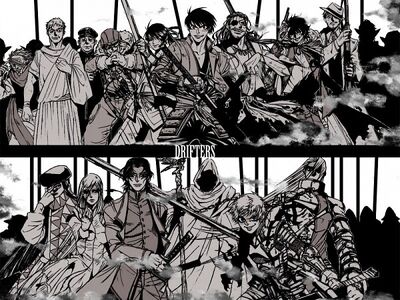 This page is dedicated to Drifters-related art created by fans of the manga.
All Drifters characters are allowed.
Do not post pictures of characters from series other than Drifters.
Any type of art is allowed (cartoon, anime, etc.)
You may post mature content, but not porn.
If you want to submit someone else's art, you must include the source.
If you want your work removed from this gallery for any reason, you are welcome to either remove it yourself or ask another editor to do so for you via the comments.
Art may be colored or uncolored.
Yaoi and yuri are allowed.
Ad blocker interference detected!
Wikia is a free-to-use site that makes money from advertising. We have a modified experience for viewers using ad blockers

Wikia is not accessible if you've made further modifications. Remove the custom ad blocker rule(s) and the page will load as expected.