Drifters PV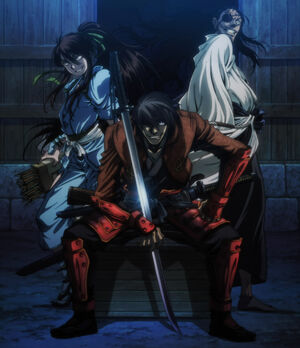 Information
Animation Work by:
MADHOUSE
Release Date:
December 26, 2012
Length:
4 mins and 14 seconds
Genre:
Action, Fantasy, Sci-Fi
Drifters Promotional Video is a PV produced by MADHOUSE Inc. Released with the last volume of the Hellsing Limited Edition DVD/BD OVA series, it previewed the first few chapters and introduced some of the major characters in the series.
Characters
Edit
Nakamura Yuuichi as Shimazu Toyohisa
Miyamoto Mitsuru as Murasaki
Animation Supervision: Nakamori Ryouji
Animation Director: Komine Masayori
Episode Director: Miura Kazuya
Music: Ishii Yasushi
Original Work: Hirano Kouta
Animation Work: MADHOUSE
Ad blocker interference detected!
Wikia is a free-to-use site that makes money from advertising. We have a modified experience for viewers using ad blockers

Wikia is not accessible if you've made further modifications. Remove the custom ad blocker rule(s) and the page will load as expected.